okay so the initial build of this is fairly easily gonna stay under the $3K mark (canadian 3K too.. so like $4.50 US ) .. later on it'll probably get a different motor, better built trans, air ride and 4 link.... but NO SHINEY PAINT!
I call it my Faux rod as nothing on it will be older then 1970 ... however the end look will be late 30's 5window coupe with a back seat. How? vw bug parts :D
as of this post, I am only about 3 weeks officially Into the project. I spend about the last year lining up some deals and parts (and well... college)
the concept
started with a free S10 ..friend bought for a song cause it's got a pretty nasty knock and all he wanted was the body panels. We now believe that the knock is a grenaded flexplate or converter. So we struck a deal I remove the body parts, I get to keep whats left (ie chassis/mechanicals, and whats left of the cab)
I've got a really old house that used to have a car port in the basement, due to changes in laws and insurance I can't keep a running vehicle in there... so
off comes the box and out comes the fuel tank, and other fluids
Then shoved it into my little work space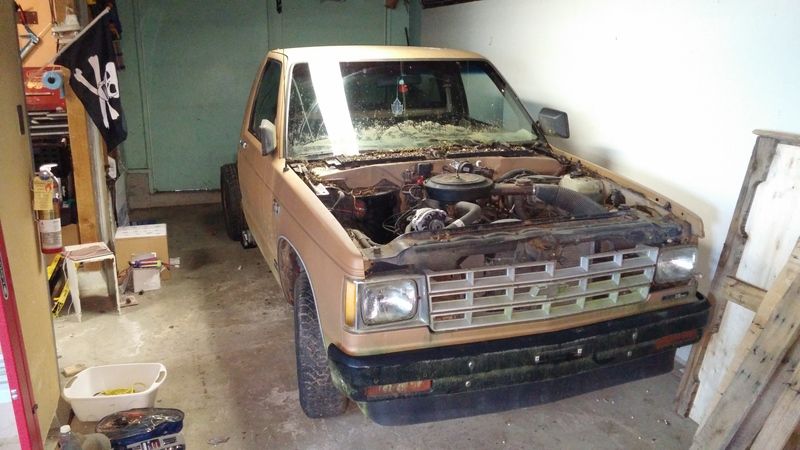 Off come the panels my friend and I made the deal for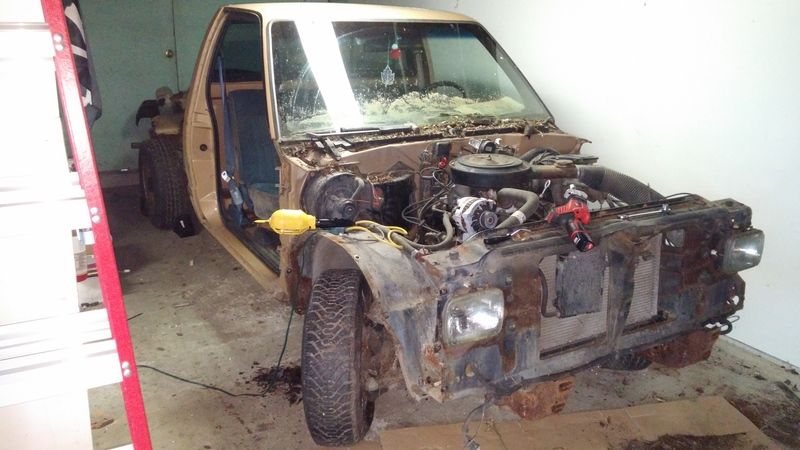 then out comes the first round with the sawzall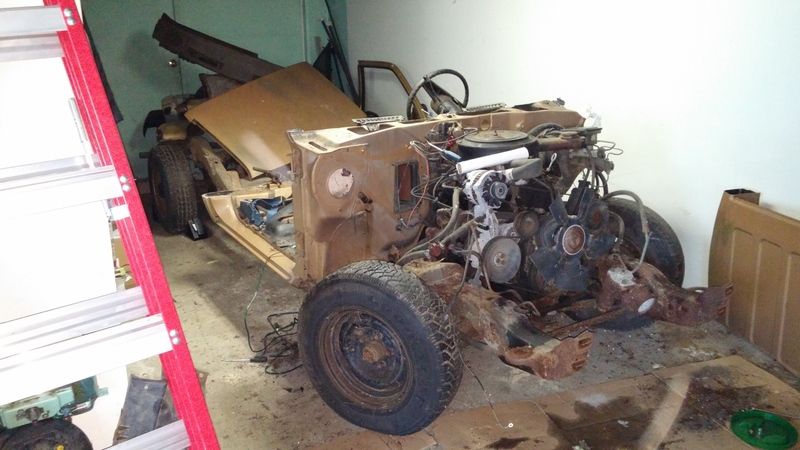 Shortly after my bug chunks arrived!.. cut up body shells of a 70 std beetle, and a 70 super beetle... I am currently still awaiting a back 'half' cut of a 73 super beetle which will have the decent B pillars, and rockers/lower door sills I need
Then a little testing to make sure my thoughts on being able to keep the important parts of the stock S10 firewall and floor .. it will just clear the master cylinder (I may have to move the fusebox, no biggie) .. and it just clears the heatercore/inner heater box (I will have to modify the blower fans intake/position, and the box... again not a huge deal)
couple of deals that popped up I couldn't resist ... brand new engine hoist, and a welder :D (I'm not counting these in my project total $ )
And now to the current stage ... rough cutting the floor away to fit where the front of the new body is going to sit ... the rest of the body will be built from this.
the real fun is going to be seeing if I can incorporate/hide the front cab mount into the body... the rear cab mount should tuck into the b pillar area nicely
it'll be the equiv of a 2ish inch body drop or channel
Once this section is positioned where I want it ... the 'cab' gets stripped of all its insides, and taken off the chassis, engine/trans removed to be gone through/freshened/modded. the rest of the body will be built inside... and the chassis goes back outside for clean, coat, some repairs...etc
$ tally to date : $350 for vw bug body parts, $0 for S10